Two pictures of groom and bride leaves the internet talking. This is after they had shown unorthodox behavior during their wedding night. Unlike going to bed early together, they decided to get drunk with their friends and family until they blacked out.Source:https://www.facebook.com/1848781156/posts/10216461312285871/?d=n
In my opinion, weddings are a sacred covenant between the groom and the bride. This covenant symbolizes the two individuals uniting to becoming one.
That is why rings and vows are exchanged. The path is about working together to create a decent home for each other and for the children.
Now if you look at the second picture of two pictures that were shared by Katlego Mafix Mookapilo you will realize that after the bride and groom were wedded they drank with their family and friends until the groom passed out on the floor while the bride was chugging an alcoholic beverage.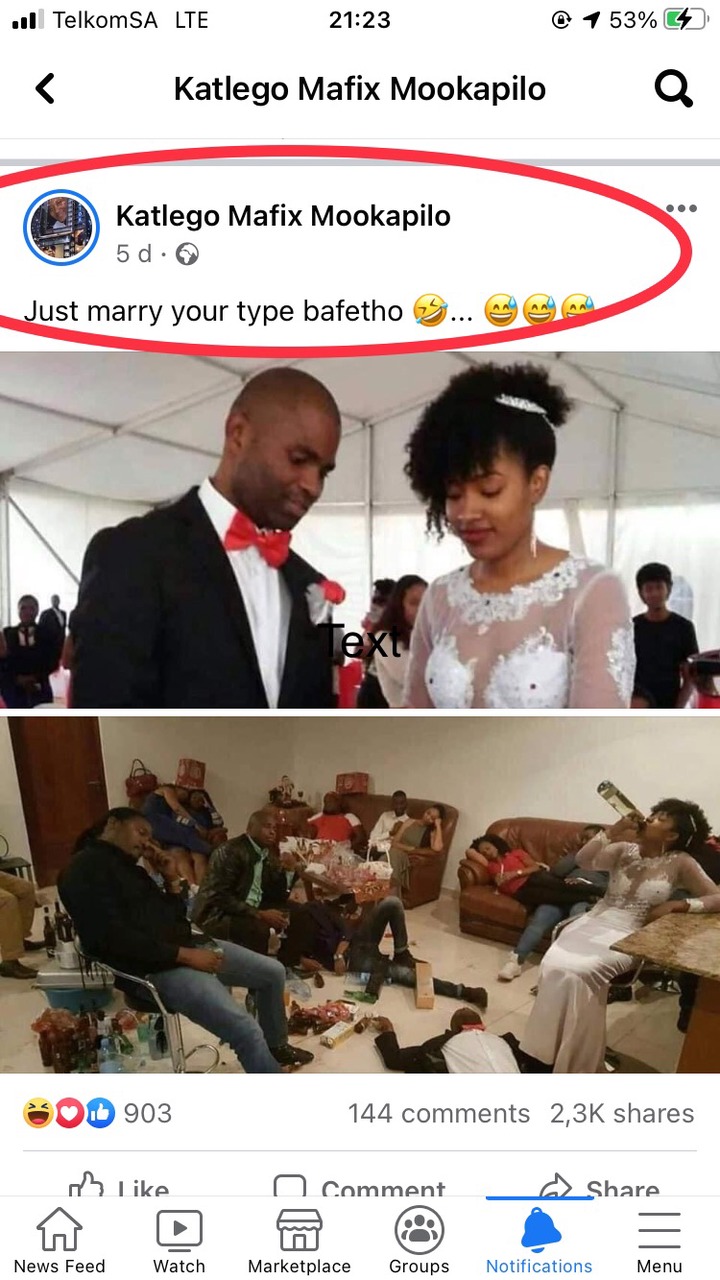 The surprising thing about all of this is that Katlego Mookapilo and some of his followers actually support this behavior. They say people should marry their types—

but this statement is a dangerous one, because people who support this kind of relationship support indecent behavior.
After getting married, couples should spend their night alone, together, and not drinking with friends until they blackout.
There should be a remarkable difference between the boyfriend-girlfriend union and the husband-wife union. When people are still dating they tend to be more exploring and open to all kinds of situations, but marriage is something else. The foundation of marriage entirely focuses on turning a house into a home, and no home is ever built by two drunkards.
People should indeed marry those that they are compatible with, but this should never create blurred lines; there should always be boundaries within the marriage. Married people should people should be respectable and dignified, however this kind of behavior doesn't align with that.
Content created and supplied by: HolisticEye (via Opera News )