After storming her husband's secret wedding with a new lady, she pays the media to record her as she devastates the occasion.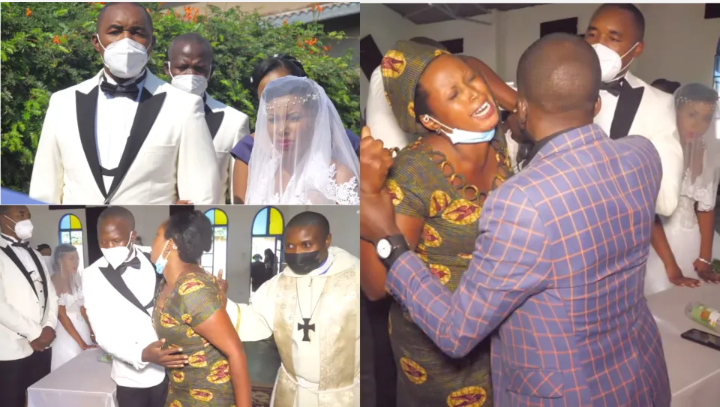 If you were at a Rwandan Apostolic church and saw a lady rush the grounds with media personnel in order to ruin her husband's wedding, it was a sight to witness.
It was the lady, who had five children for the groom, who swore she would not allow the wedding to go place and did all she could to get it cancelled. The wedding was eventually cancelled.
When Dukuzumuremyi Janvier came into the room with her young children, which included a set of twins she had been caring for on her own, she caused quite a ruckus.
In the middle of the interview, she received a phone call from her husband, who informed her that, despite the fact that they had been separated for years, he was marrying another woman without her knowledge.
Even though she was devastated, she invited the press to her home to observe how she handled the issue, which was recorded on camera, and she welcomed them in.
Afrimax's cameras were rolling from the minute she walked into the church grounds with her children to the moment she exited the premises.
After entering the chapel, she chose not to approach the bride, instead focusing her dissatisfaction to her husband's attention.
She caused quite a commotion until the groomsmen were able to calm her down as she shared her story with the presiding priest.
In order to support up her accusations, she splattered photographs from their wedding and personal life across the couple's table, as the bride gazed on in bewilderment.
The officials were obliged to hold an emergency meeting in order to handle the situation and reach a conclusion.
The conference came to a close with Janviere being advised to divorce her spouse since he was determined about never seeing her again. She consented to the terms on the condition that he provide financial assistance for their five children.
Her spouse agreed, but it was too late for him to preserve their freshly formed relationship. The wedding was called off after the officiators withdrew their participation.
Content created and supplied by: CloudZero (via Opera

News )