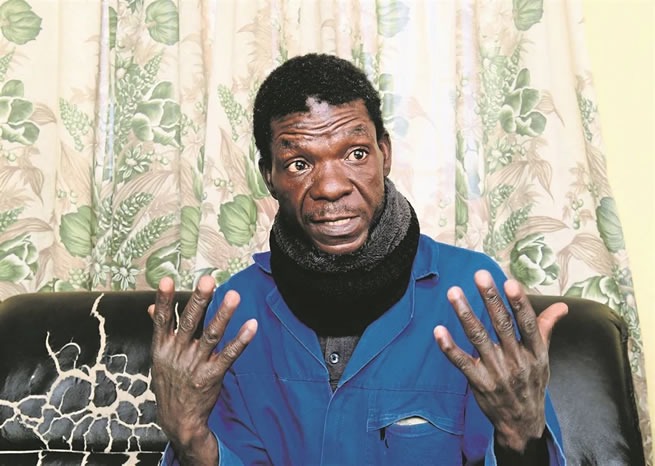 He moved in with his girlfriend in Olievenhoutbosch four years ago when they started dating and they resided in her house. He then used his pension money to construct five back rooms so they could earn more money for comfortability, and the rooms were completed in January this year. The couple's joy, however, was short-lived as Simon Phaladi's girlfriend, Hazel Mangena (45), booted him out.
Rabaki, who worked at a steel firm in Kempton Park, said he didn't even get paid for the five rooms he built. And now the 47-year-old from Vosloorus, Ekurhuleni, believes she took advantage of him.
"I thought I was creating something for us with my pension money, but now I'm homeless and destitute," he explained.
Simon stated that he received around R50,000 after being laid off four years ago.
"I took some of the money and put it towards the rooms, believing it was for our future." But that woman had other plans for me, and I wasn't a part of them". He said
He stated that when they met, his girlfriend worked as an assistant.
"She was having financial difficulties at the time, and I suppose she fell in love with me in order to treat me as her cash cow."
"She abused me and spit me out like a scumbag." I'm not going to stop until I get what's rightfully mine. "I want my fair share," he declared.
Tenants who live in the rooms pay R1 000 per month, according to Simon, and he wants at least R1 400.
"She took my share and gave it to her 19-year-old daughter."
"I rent a place in Vosloorus, and I can't even afford the rent since I'm unemployed." "I'm fortunate that the room owner is a relative," he added.
Simon's girlfriend, Hazel, stated that he must pay for poking her.
"Perhaps he should pay for using me while having sex with me," she said.
Hazel stated that Simon resided in her home for free and that she did not need him to pay rent.
"Whatever he did, he did voluntarily." No one held a pistol to his head.
"He has the option of going to Small Claims Court." "I have a tongue to speak for myself, and I will explain why," she explained.
"As far as I know, no contract was signed." And who is responsible for my child?"
Follow,like ,share and comment.
[Source: Dailysun]