The most common Std people know about are gonorrhea, HIV, or even chlamydia but there's another std that is very common but you can hardly hear people talking about it and most people are not aware and informed of it. This std is known as Trichomoniasis.
This particular infection is caused by a parasite. In women, this infection causes a very foul-smelling discharge, itching, and painful urination. next time, when you hear someone has a smelling discharge, please ask them to run quickly and check for this infection. Pregnant women who have this infection are at a higher risk of delivering premature babies.
There's a lot we still don't know about this trichomoniasis and not much is being done to stop its spread. This means that our public health programs are not putting much effort into reporting or controlling this infection transmission as they do with other STDs and STIs.
Hence the reason why it's mostly ignored or not talked about even though it is very common. Actually, this infection is among the most curable STD. In 2018, Unite states recorded an estimate of about two million trichomoniasis infections but only about 30% of this figure developed any symptoms of this infection which is more common in women than men.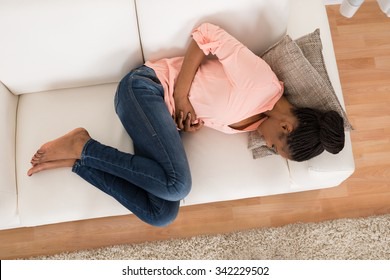 Photo Credit: Shutterstock
Older Women are even more likely to be infected with this infection than their younger counterparts.
Major Symptoms:
The symptoms of this infection in women include:
a) A foul-smelling discharge that can be yellow, green, gray, or even white.
b) Itching, redness, or even burning
c) Painful urination
As previously stated, men hardly have this infection and when they do, it normally comes with no or fewer symptoms. Some of the symptoms recorded in men include:
a) Painful or burning after urination
Causes:
This parasite can be contracted from an infected person to an uninfected person. In women, the most affected part of the body is the vulva, urethra, or even cervix while in men, the affected part is inside the urethra.
Please, note that infected people even without symptoms can still pass the infection to others.
How to prevent it:
Abstinence is still the order of the day but when you can't abstinent, please always make sure your check and treat yourself, both partners should always be treated. You can also reduce your risk of contracting this infection by using protection correctly every time
Content created and supplied by: DrGeraldine (via Opera

News )